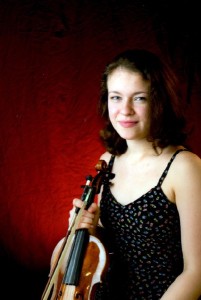 Chanelle Bednarczyk was born in Hahn (Germany). She commenced her study of the violin 2004 in the State Music School in Bielsko-Biala . Sche is currently a student at the University of Art and Music in Vienna under E. Zienkowski.
Already during her school studies she performed many times as soloist with the Rybnik Philharmonic Orchestras in Rybnik, Zielona Góra, Bielsko – Biała,  Reszów, the Silesian Philharmonic and the Orchestra of the Polisch Radio in Warsaw. She has and the Orchestra of the Polisch Radio in Warsaw. She has performed with the Chamber Ochestra of Schloss  Britz in Berlin under the direction of Mark Laycock. Chanelle has performed at the Royal Castle in Warsaw, at the Castle in Łańcut, at the Moyland Castle in Bedburg, at the Goch Castle in Germany and in the Berlin Konzerthaus.
She has also participated in workshops and courses by renowned professors as W. Wiłkomirska, E. Zienkowski, Z. Bron, M. Grabarczyk, E. Durnov, R. Wilkie, K. Jakowicz, O. Semchuk,and  I. Gitlis.
She has been a scholar of the Nation Children's Fund in Warsaw since 2008. In June 2009 she successfully passed exam and was accepted at the University of Musik and Art in Vienna Special Course for exceptionally talented youth. She placed third in a group of 85 candidates  aged up to 25 from all over the world.
Her notable achievements include the Honorable Award for the Greatest Personality in the 6th G. Telemann Intenational Violin Competition in Poznań ( 2009 ), 1st Prize and Honorable Mention for the Best Performance at the 51 st J. Kocian International Violin Competition in Usti ( CzechRepublic , 2009 ), 1 st Place at the National CEA Auditions for students in Warsaw ( 2009), The Youngest Finalist at the European Union " Young Musician of the Year 2009 " competition, Honorable Mention at the 3rd Groblicz Family National Violin Competition in Cracow (2010 ), 1st Place at the prestigious " Andrea Postacchini " International Violin Competition in Fermo ( Italy, 2011 ) and 1st Place and non- competition prizes at the Stanisław Serwaczyński National Violin Competition in Lublin ( 2011 ). In August 2014 at  the International Violin Competition in Hong Kong received the Grand Prix. She is an exhibitioner of the Ministry of Culture and National Heritage. From October 1, 2014 began its musical studies at the University of Music and Art in Vienna in the class of Professor Edward Zienkowski.